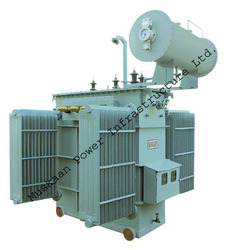 Voltage Power Transformer
Product Code : 57
Product Description
Voltage Power Transformer
The voltage power transformer is a combination of inductive voltage transformer and power transformer. They are a low cost alternative to small power transformers or distribution feeders as they have a compact size and weight in comparison to other conventional power transformers. We have made use of exclusively superior quality raw materials that are corrosion resistant in the construction of our voltage power transformers so as to enable longer service life of our products. The voltage power transformers are also one of the our most demanded products that finds its applications in substation service voltage transformer, electrification of rural areas, power supply for cell phone relay stations as well as transmission line lighting and so on.
Applicable Standards: IS, IEC, ANSI, JIS, BS, DIN, ETC.

Transformer options:
Cooling Tubes / Radiators / Corrugated
Tanks
Pole Mounted / Ground Mounted
Free Breathing / Hermetically Sealed
CSP / Non CSP
Winding-Copper/Aluminium (Foil /
Rectangular Wire / Round Wire)
Fittings and Accessories, Cable
Terminations etc.as required
Standards:

MUSKAAN'S transformers are designed and tested as per IS : 2026, BS - 171, IEC - 76 & IEC - 726.

Vector Group:: Transformers will be connected as per vector group reference Dyn11. Other vector groups can be offered as per specific requirements

Terminal Arrangement:: H. V. - Bare Bushings or Cable Box, L. V. - bare bushings or cable box. Disconnecting chambers can also be provided on both HV and LV Cable boxes.

Temperature Rise

MUSKAAN'S transformers are designed for a maximum temperature rise of 40 / 50 degree C of oil / winding. Lower temperature rise can be offered on request.
Additional Information:
Minimum Order Quantity: 1 Unit
Contact Us
Sua Road, Industrial Area-C, Dhandari Kalan, Ludhiana, Punjab, 141014, India
Phone :+917259525264